Congress Venue: Skills Lab
---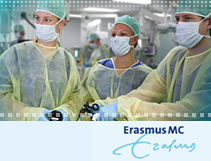 Address
Erasmus MC Rotterdam is located in the city centre of Rotterdam. At the Faculty building of the Erasmus MC take the the elevator to the third floor, where the entrance is located. From there pass the security desk and take the elevator to the first floor. The SkillsLab is situated at the first floor of the Faculty building of the Erasmus MC (Room Ee-120).
Visitors address SkillsLab
Roomnr Ee-120
Wytemaweg 80,
3015 CN Rotterdam
The Netherlands
Adress Parking place
Westzeedijk 361
3015 AA Rotterdam
The Netherlands
Follow signs 'Ingang faculteit/entrance faculty building'
---
SkillsLab Erasmus MC
SkillsLab Erasmus MC in Rotterdam, the Netherlands, is a medical-technical training center where medical specialists, residents and (OR, IC) staff are trained in innovative skills. The courses are lectured by (medical) specialists, Dutch and foreign, and vary from basic laparoscopic and surgical skills to flexible endoscopy and nerve reconstructions. At the SkillsLab you can count on a extensive grade of support in organizing and planning of your course during preparations and on the day itself. We will assist you with: course content, financial management, participant registration, accreditation, audiovisual support and catering. The SkillsLab has several state-of-the-art trainingfacilities that can be booked separately or in combination.

History
SkillsLab Erasmus MC, founded in 2003, is located in the faculty building of the Erasmus MC in Rotterdam. Jaap Bonjer, M.D., Ph.D. and Steven Hovius, M.D., Ph.D decided to build a training centre where specialists, residents and O.R. personnel could improve their skills and be informed about new and high-tech developments in the surgical world. When presenting their plans to the Board, they convinced its members of the front office function of this lab and in September 2003 the building started. In February 2004, the SkillsLab Erasmus MC was finished and we are proud to show you around.

The SkillsLab provides the following facilities
a large O.R.
a small O.R.
X-ray shielded room
Microsurgical lab
Conference room
Dissection rooms 

Faculty
SkillsLab Erasmus MC is very proud of its renowned national and international faculty. We are collaborating  with the best professionals in their field to provide you with the high quality that we stand for.
---
---
SkillsLab Erasmus MC (Wytemaweg 80, Rotterdam)
---